Be Courageous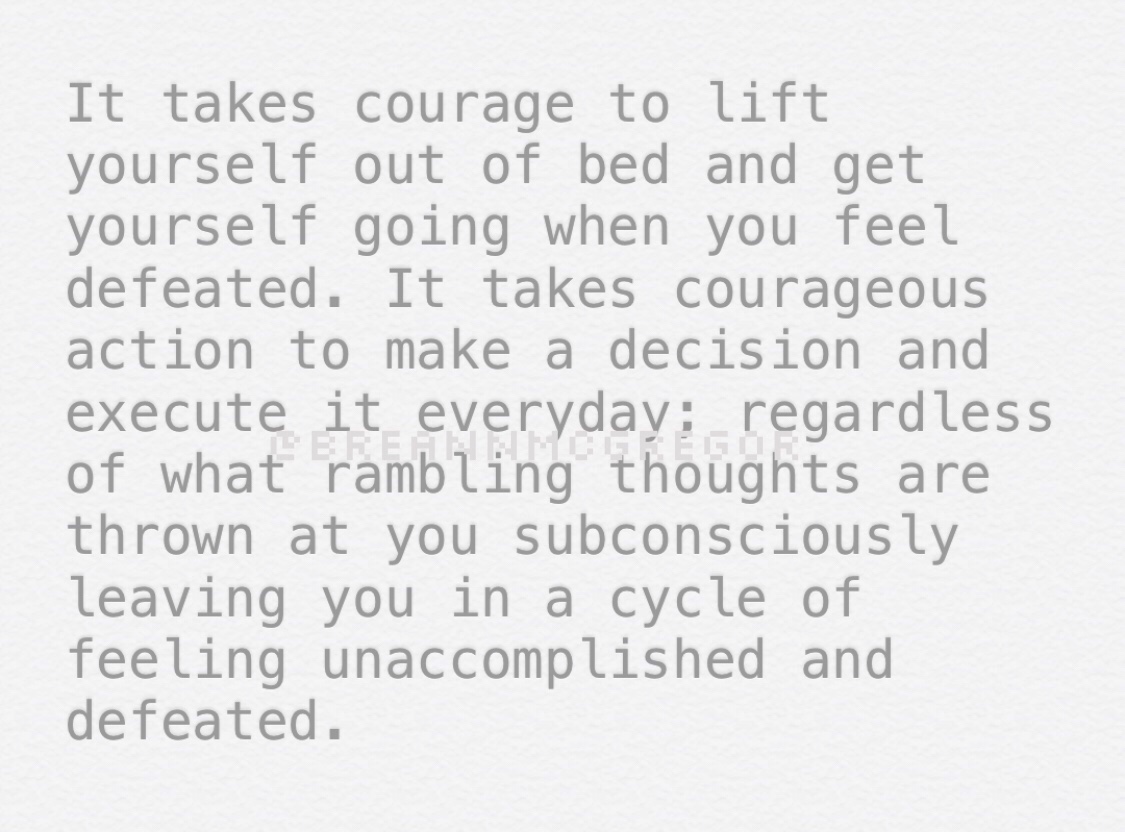 At the beginning of this year I made a decision to focus solely on my health. And I knew that I needed to go to professionals for help. I couldn't do it alone. What started this spark for me to take initiation and become proactive was when I was talking with a good friend of mine who mentioned this doctor. She had know clue what I was holding back emotionally, but I ended up opening up to my friend and from there my life changed. I made an appointment with her doctor; and this doctor really did take her time with me as her patient and listened to everything I had written down in advance before my appointment.
This doctor took an hour of her time to listen to what I prepared in advanced to tell her and from there she was able to direct me to the right doctors who could help me with my specific needs. For 5 months I saw doctors every single week. Wether it was one visit a week or four I made it my priority to understand what was going on with my health. I realized that if I'm not right mentally and physically I'm robbing not only those I love but most importantly myself, of who I am fully capable of being.
It takes courage to lift yourself out of bed and get yourself going when you feel defeated. It takes courageous action to make a decision and execute it everyday; regardless of what rambling thoughts are thrown at you subconsciously leaving you in a cycle of feeling unaccomplished and defeated.
It's just like that first day at the gym. But as we push ourselves to exercise the muscle of courage, an extraordinary thing happens. Every single time you flex it, taking courageous action becomes that much easier. Every time you push yourself to step outside of your comfort zone, speak up, wake up to face the day ahead of you or advocate for your needs, you complete a "courage workout."
Daily courage workouts (which mind you these "courage workouts" can be anything that you fear doing or just absolutely dread doing) lead to strong courage muscles, and that's when being courageous becomes a habit. It is like installing new software on your devices to keep them up to speed. Our brain is just like our computer; you got to get rid of the old to download the new.
So in moments when you face self-doubt, fear and hesitation, you can push past these feelings with ease. When your courage muscles are in tiptop shape, your feelings don't control you. I will be honest today wasn't easy. I felt unlike myself. And so I said, "fuck it!" I am still dissecting my feelings and trying to get to the root of what is making me feel the way I do; and just by typing this and sharing this with you was a courageous workout for myself, and I gotta be honest my heart feels fuzzy.
I personally recommend daily acts of courage for your soul.
In moments in which you push through hesitation and procrastination using courageous actions that change your life. When you take control of a situation with an act of everyday courage, you are no longer defaulting to fear. In moments of hesitation, your constant rambling thoughts, that never seem to make sense, leaving you feeling exhausted. After just trying to process what the fuck your brain was trying to get across to you —those are the times when your feelings of doubt and worry and fear creep in; that is the moment you have a critical opportunity. It's the opportunity to practice everyday courage. Where you once needed to courageously push yourself to overcome hesitation, procrastination, doubt, fear, etc; after your endless practice you will now find it to be second nature.
You will control your own thoughts and feelings, not the other way around. Don't allow yourself to become a prisoner of your thoughts. Your body is not meant to be a prison it's meant to venture out and come in contact with like minded people and adventures. You're not here to deal with what your going through alone. We are all here on this earth because we all have a purpose. And I don't want you to give up on yourself I care about you. And I may not even know you; but I do feel in my heart and soul that I needed to share this with you.