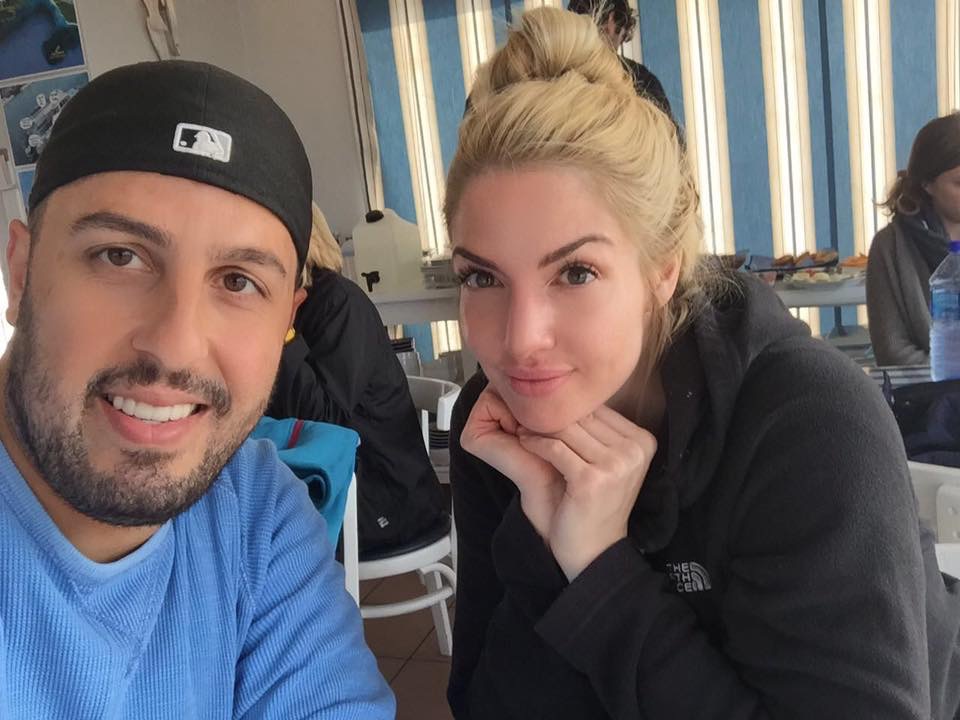 Why I've avoided going into the ocean?  Sharks!
By looking at my Instagram, Facebook, Snap Chat, etc. you would never once think Breann was afraid of sharks, quite the contrary. I was petrified.  I never thought I would be face to face with a shark, let alone a Great White Shark.  Before ever getting the urge to go shark diving I wanted to get past my fear of the ocean. So, for my 31st birthday I decided to go surfing in Venice, California.
I went through the 101 surfing basics: Feeling out my surfboard and learning how to stand on it, getting the feel of balancing yourself when on the board, and once you've caught a wave how to try and surf the wave onto shore.  I can say with certainty that surfing helped me get over my fear of going into the ocean.  However, though I was unable to stay on top of my surf board, I did leave feeling acquainted with the bottom floor of the Pacific Ocean. Hey I tried, lol.
Fast forward three months after attempting to surf. I was now riding passenger as my husband drove us from Cape Town to Gansbaai, South Africa.  The experience of the car ride was in and of itself, one hell of a ride. Except on this ride we weren't sure whether we would make it to our destination. Along our way to shark dive we saw bamboo monkeys randomly crossing the rural roads.  Pedestrians walking across the highway or along side the cars.  One must be vigilant while driving always, but especially in South Africa.  This is the norm for locals and something you get use to so we were told.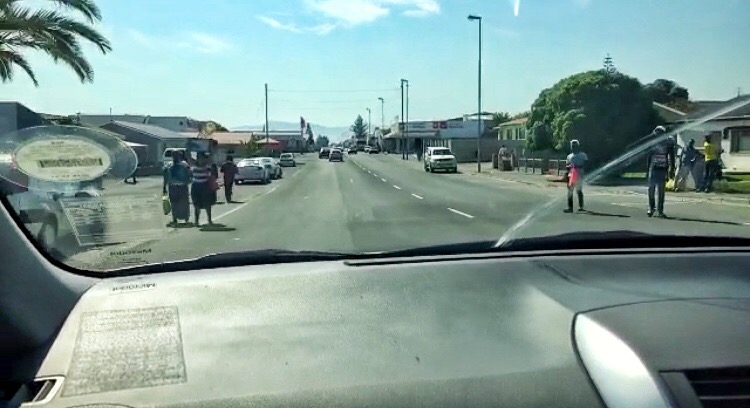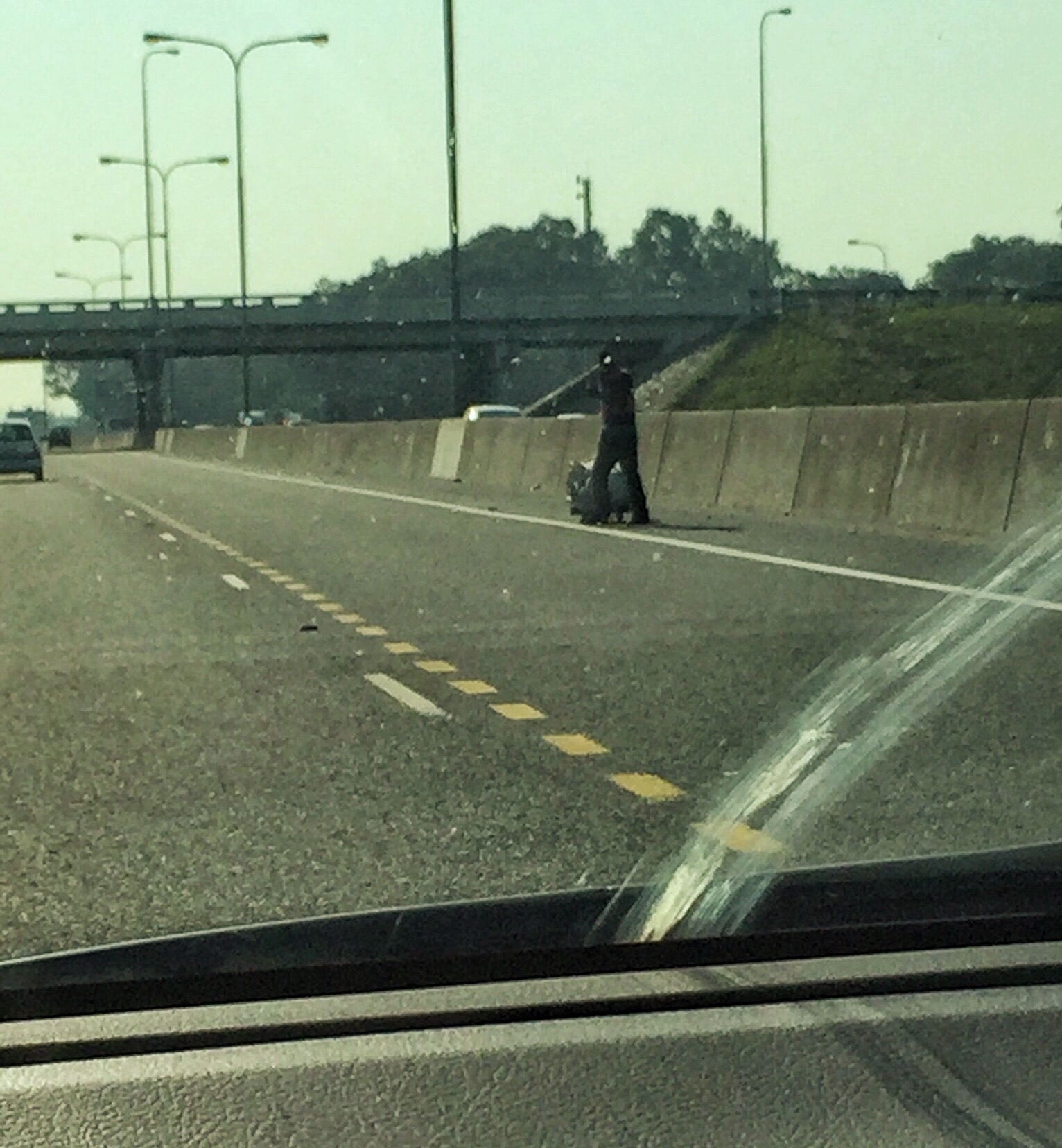 After a two and a half hour drive from Cape Town, where we were staying, we arrived to our destination in Gansbaai.  The locals who ran the shark diving tour greeted my husband and I.  Breakfast was prepared for us upon arrival and while eating we were given a full safety briefing on land during which we were informed on the route, the boat, and the possible marine wildlife we might encounter during our shark dive tour.  After the briefing we were handed orange ponchos.  We walked two minutes to the harbor where my husband myself and visitors like us boarded a custom built boat called the Apex Predator.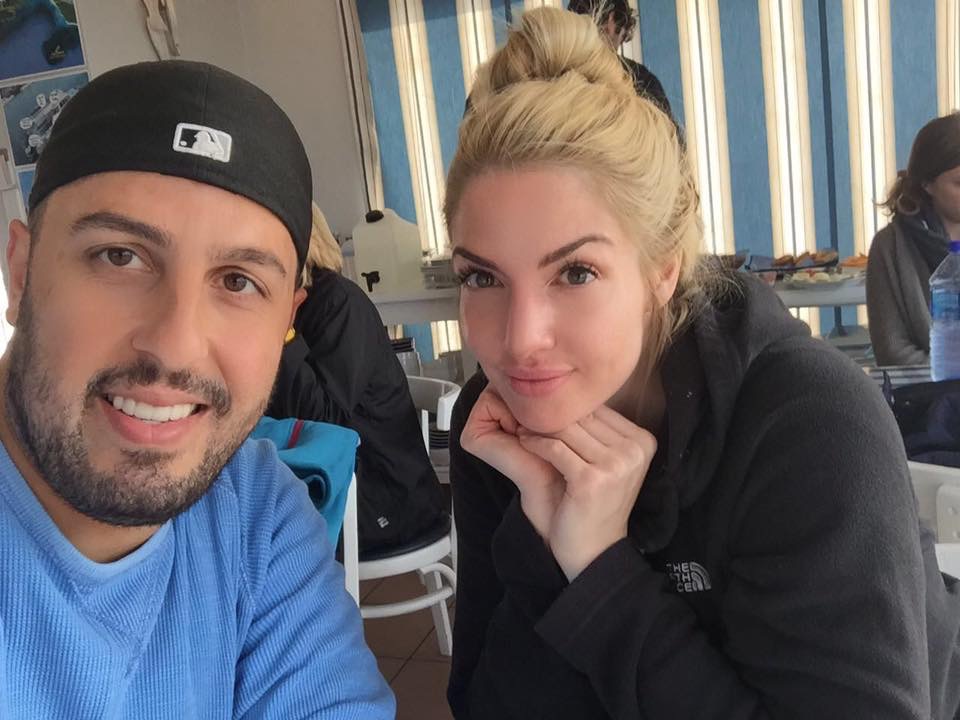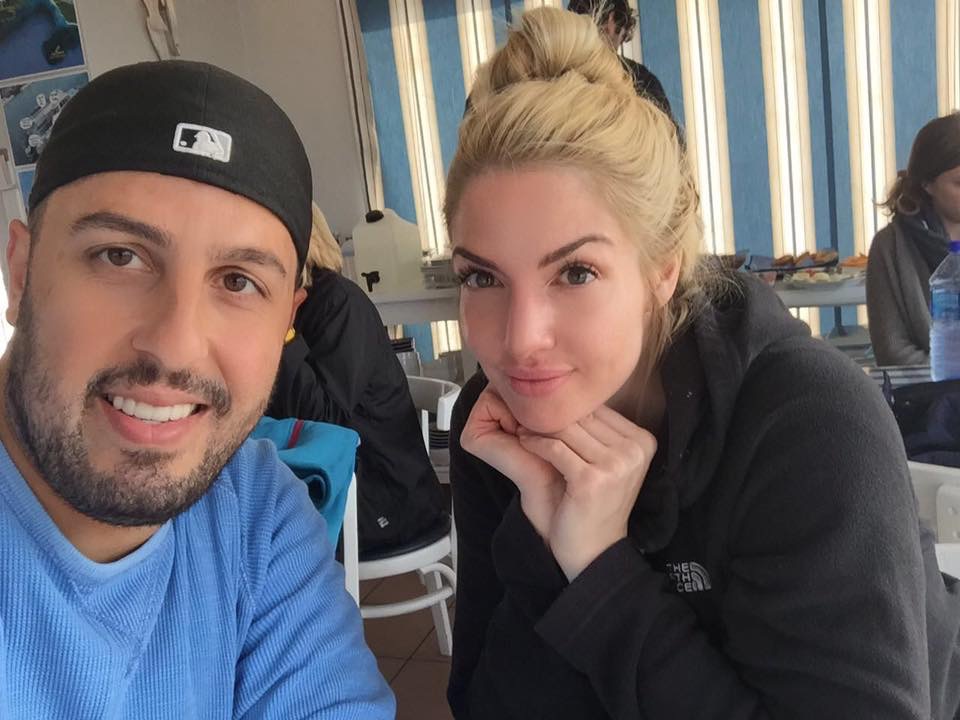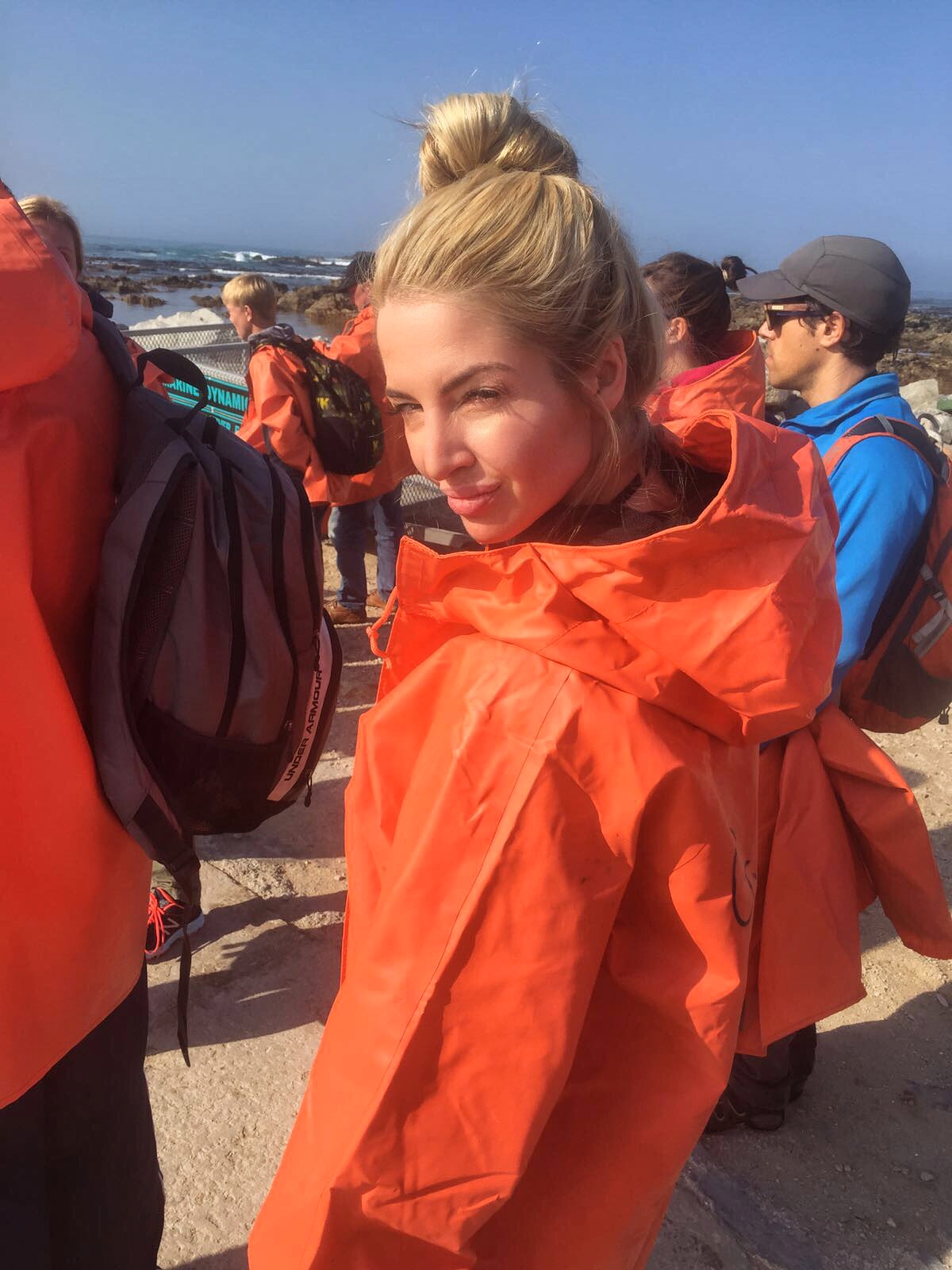 When my husband and I got on board we headed straight for the upper level of the boat and sat next to a group of gnarly young mates from Australia.  Their conversation and laughter was infectious and in fact helped make part of the four-hour trip to and from Dyer Island enjoyable.  Luckily for my husband and myself we did not get seasick from the rough waves that had the vessel rocking back and forth.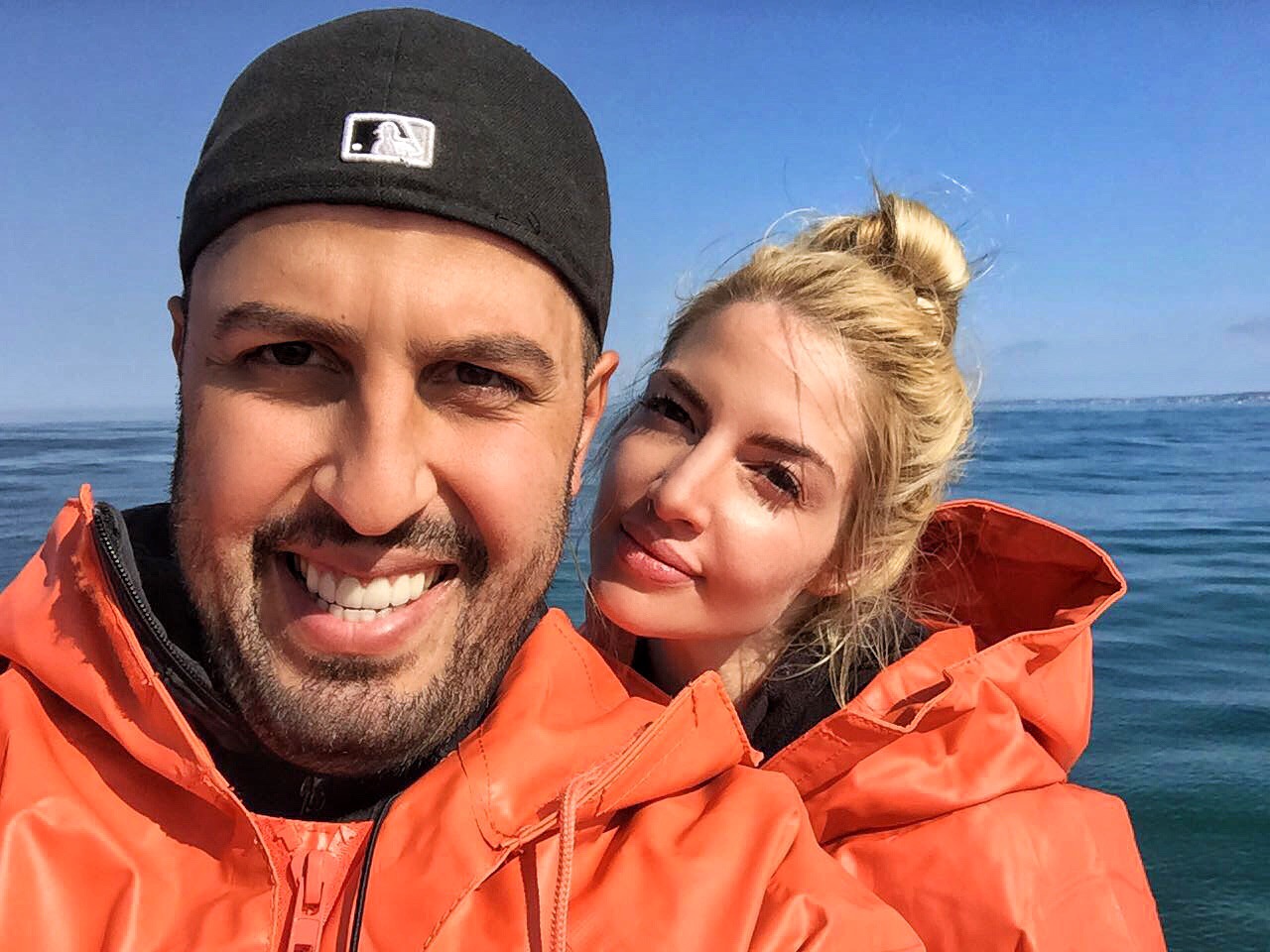 Once we reached the island the boat was anchored and one of the crewmembers began attracting Great Whites with a specially formulate 'Chum' mixture.  Still sitting on the upper level I watched as he was making the chum below.  I had the perfect view of him and the barrel in which he was taking the chum out of and pouring into the water.  The cage was dropped in once we spotted the first Great White to swim by.  I remember my first time seeing a Great White Shark.  I was standing on the front of the boat; full of excitement I started fumbling for my phone to access my camera.  I remember everyone saying in astonishment, "WOW."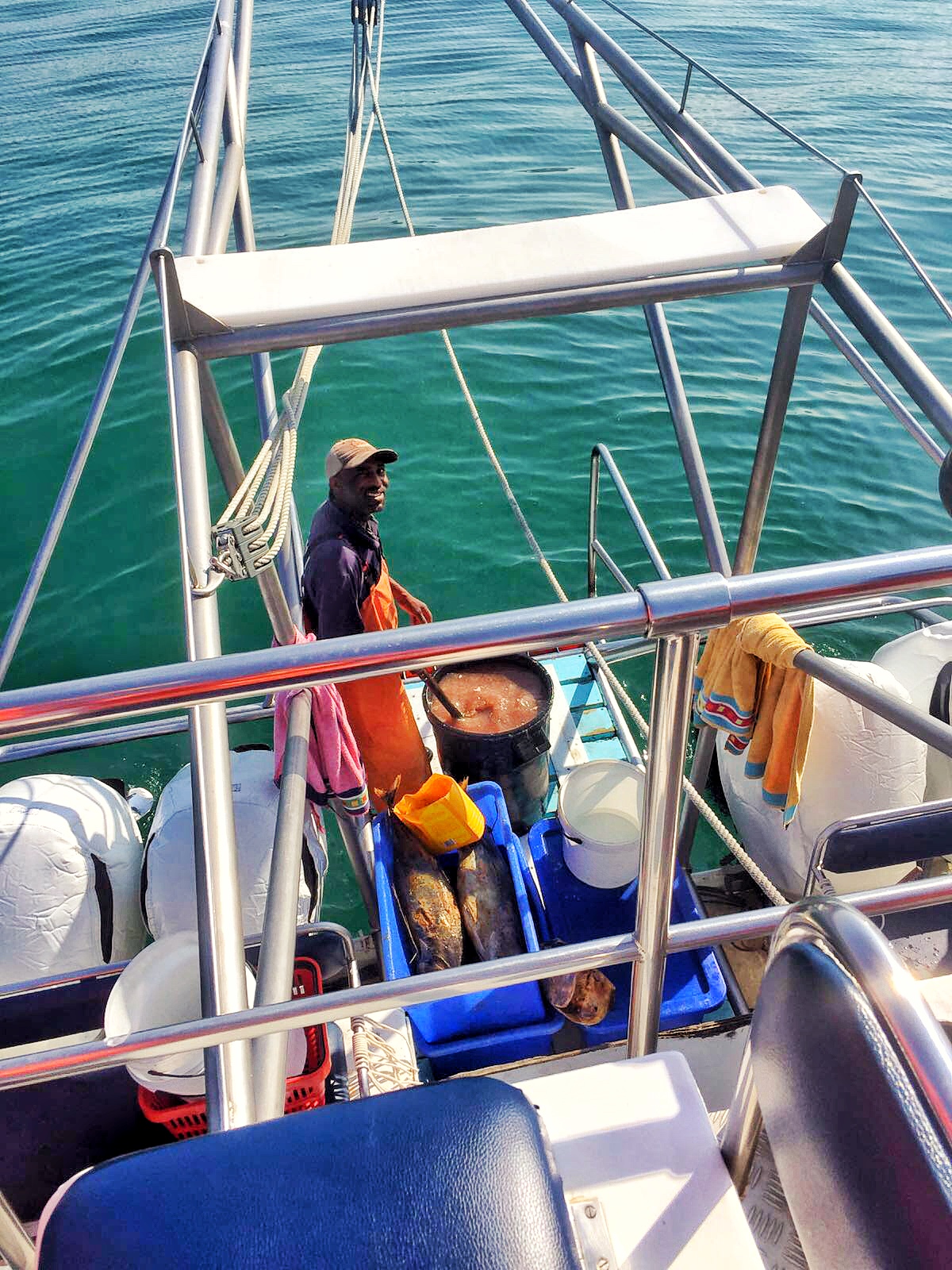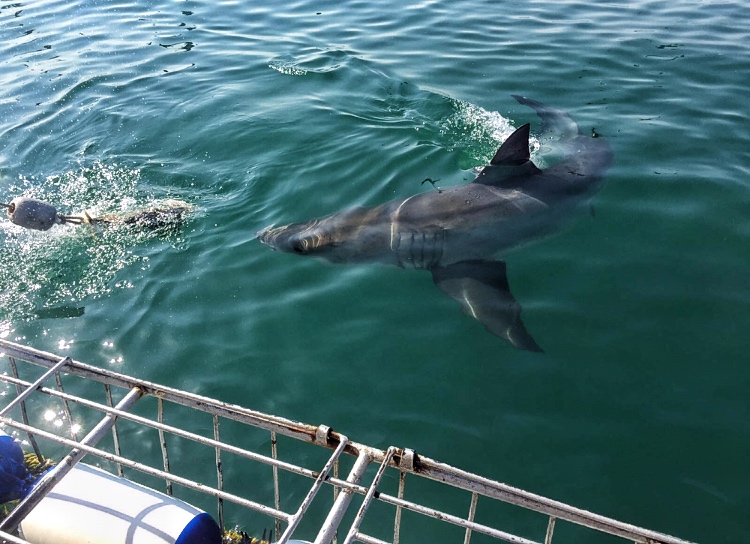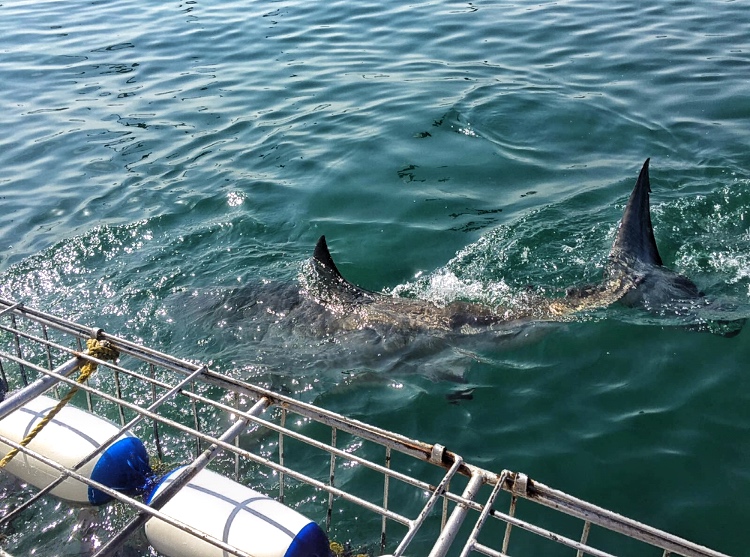 This majestic beauty that I was so afraid of and had prevented me for years from going into the ocean was literally swimming right by me.  The captain called the first group and then the second to go in the water.  While the second group was in the water I was given a wetsuit, weights, and goggles.  When our turn came to get into the water….
"Ahhhhh!"  This is so exciting for me to just write about it at this very moment.  Wow!!! What an experience to share with you.
As I stepped into the cage and I am not going to lie I started to panic. My breathing turned rapid and the freezing cold water didn't help.  I remember a part of me wanting to get out as I started to feel claustrophobic.  Once inside the cage I was disoriented.  I was trying to find the correct bar to hold onto because the other bar was accessible to passing sharks, in which that wrong bar could have potentially led to me missing a finger or my hand as a nice treat for the shark.
I remember the water being musky and hard to see which bar was which.  As soon as I was enabled to orient myself I became calm and relaxed.  This was a huge milestone for myself.  Facing a Great White Shark face to face.  When the captain spotted a shark he would yell out "Down down down!"   The bar we were holding onto and the weights around our hips helped us to pull ourselves down to see the shark as it swam straight towards us.  Exciting right?  Yes!!!  This was by far one of the best experiences of my life along side Sebakwe. You can read about him on my previous blog, "Is it possible to fall in love with an elephant?".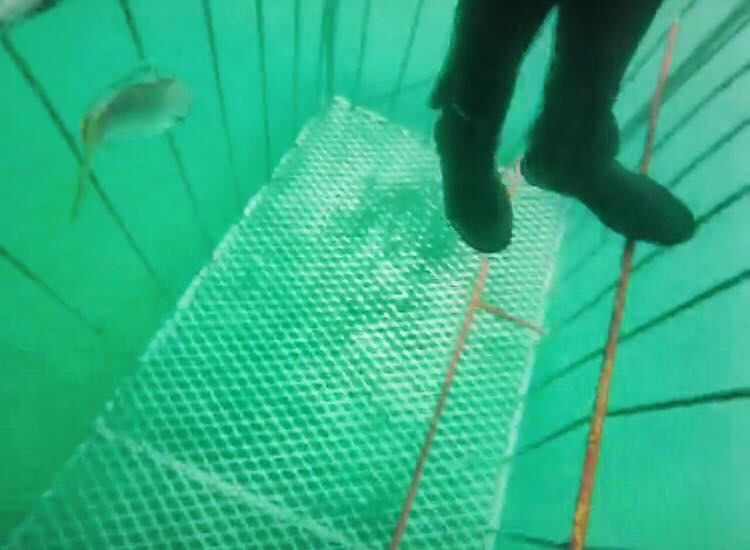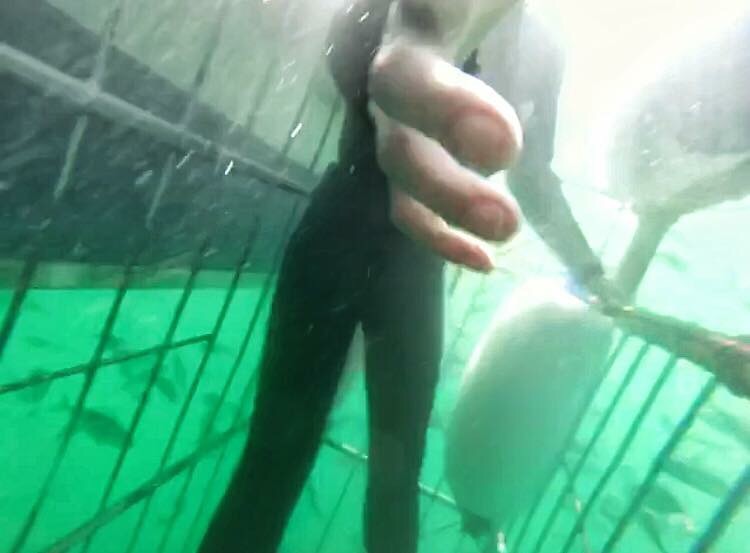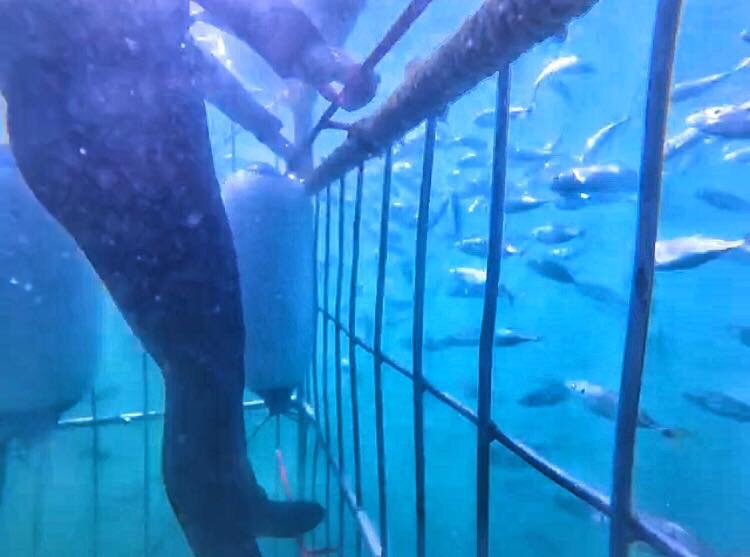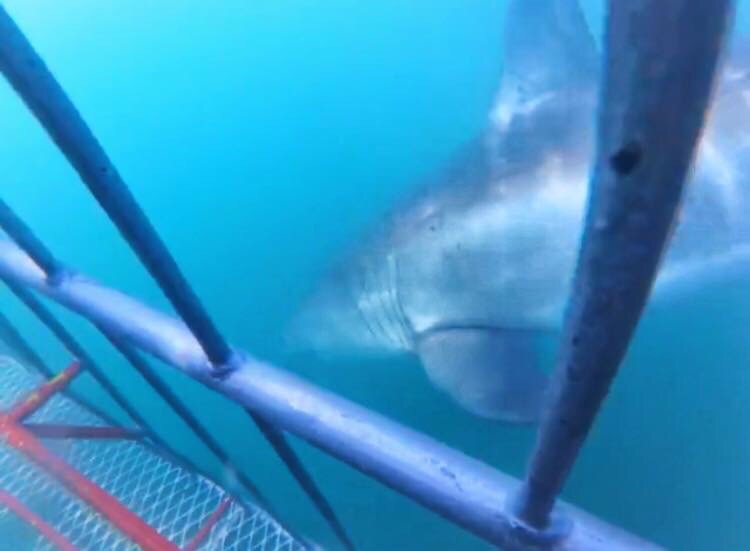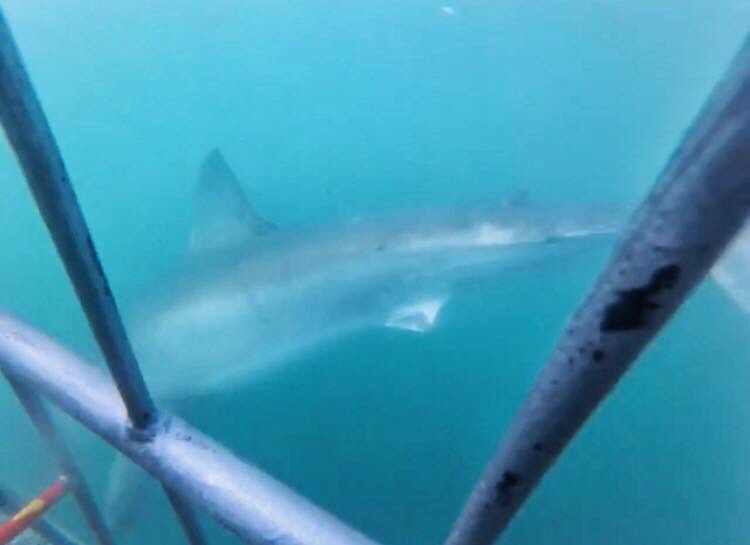 Some of the divers got seasick and were unable to get back into the water so my husband and I were offered another chance to get back in.  The second time was awesome because this go round I knew what to expect.  We were in the water for a good hour.  When the captain shouted the first 'down' I went under the water and there I was facing this huge 13-foot Great White Shark.  As the shark passed along the side of the cage I was on, he brushed against the cage and touched me.  The rough waters had the cage bouncing and swaying already and the shark brushing the cage made it so much more exciting.  It was as if I were on a Hollywood movie set except this was really happening.  No props nothing fake about it.
I remember my husband and me screaming underwater excited by what we both witnessed and experienced.  My husband yelled out to me once we quickly came up for air before going down within seconds of another passing shark, "the shark touched you.  Did you see that?"  Me, "of course I saw it! I felt it." It came to a point where I staid under water as long as I could because I didn't want to miss any action man.  The sharks were digging the chum our crewmember made and obviously the sharks couldn't get enough of it.
I finally decided to get out of the water once I couldn't feel my limbs due to the cold temperatures of the water.  I was so exhausted that when I was attempting to climb out of the cage it took three men on board to help pull me out.  I grabbed a bottle of water and towel that was provided.  I headed back to the upper level of the boat where I'd initially sat on the way to the island.  As we sat there we witnessed this brazen seagull swoop down and grab a sandwich right out of the captains hand. I marveled at the beauty of it all; conquered my fear of the ocean, and the main thing that kept me out of it, sharks.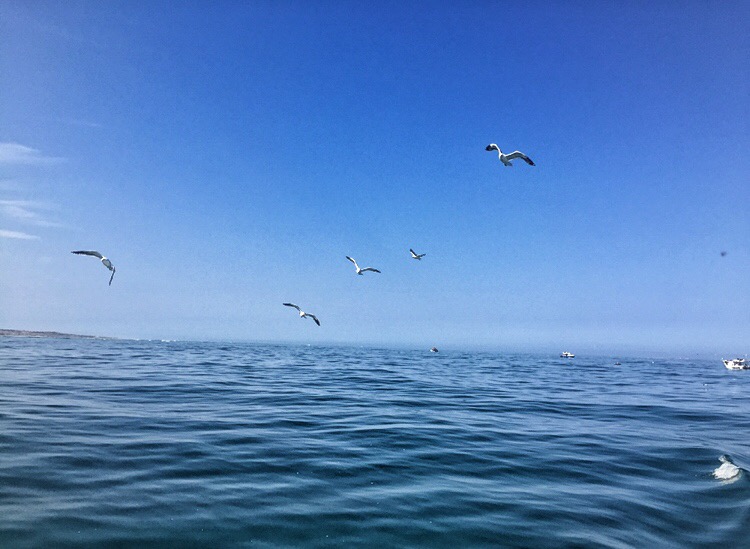 To see these extraordinary creatures in their own habitat is something else.  Great White Sharks are absolutely beautiful.  As each and every shark passed our boat every single word uttered or wowed was of amazement.  Hands down something I will never forget and will continuously share for the rest of my days.  I am looking forward to more ocean time.  Except, yes, there is a but… I am not a big fan of the sun or sand, haha. Until next time go shark diving you won't regret it.