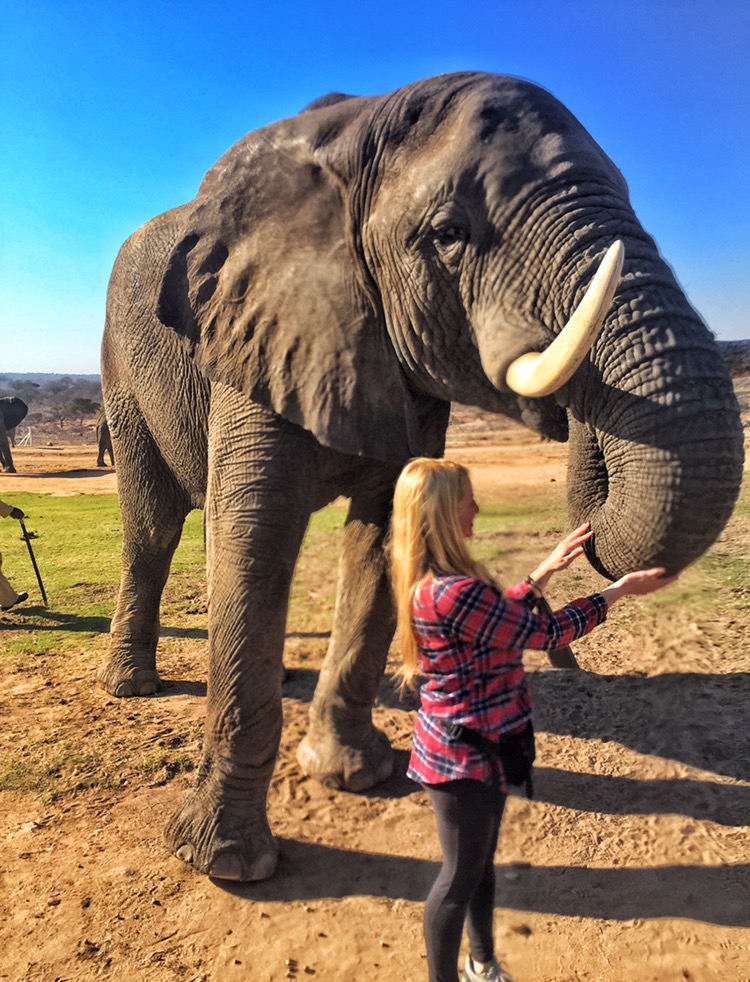 Is it possible to fall in love with an elephant?
"Let's go, hurry, I want to get there early." I said in excitement to my husband. As we approached the safari vehicle we looked at one another and smiled. The thought of knowing within the hour we would be interacting with real live majestic elephants felt as if it were the night before Christmas. I covered my nose with a blanket that was provided in the vehicle. Despite the chilly morning air and dust drying out my contacts making it hard to see I was soaking up the experience of riding through Hoedspruit, South Africa. The ride was pretty incredible; it was only my husband, the driver, and myself. I was overcome by anticipation, as we got closer to Camp Jabulani.
Dawn was slowly approaching as we turned onto the dirt road to the elephant reserve. When the truck came to a halt the driver said, "we are here." I jumped out of the vehicle. Once my feet were planted on the ground I ran towards the hut where we were greeted with coffee, tea, hot chocolate, and a variety of snacks. The gentleman in charge of the paper work and going over the excursion began to speak about the elephants. His accent was thick. I found myself starring at his mouth as he spoke so I could focus on what he was saying and do my best to understand. He handed me paper work to fill out. I filled it out so fast to have the luxury of time to ask questions and soak up as much information as I possibly could before the excursion started.
"Do you have any questions?" He asked. I responded, "yes tell me about Sebakwe." He proceeded to tell the history of the famous elephant. Sebakwe is the face of Amarula (a world renowned South African cream liqueur made with sugar, cream and the fruit of the African marula tree); he was born in Zimbabwe in the early 1980's. He and a couple of other elephants lived on a farm located 7.5 miles east of Chinhoyi town, which was later expropriated due to the national land reform program. In 2002, Lente Roode, the daughter of Willie Schurmann who bought 4942 acres of farm in the Hoedspruit district, heard about the elephants losing their homes and that their lives were in danger too. She knew she needed to act fast in relocating the elephants and their handlers. An emergency evacuation operation was prepared and they were relocated to South Africa.
Sebakwe is the dominant male in the Camp Jabulani elephant family. He stands 9 feet 10.11 inches tall and weighs 4 ½ tons. After learning about the elephant's history I absolutely wanted to meet him. My husband and I were able to interact and ride on Sebakwe for our elephant excursion. We walked to these wooden stairs that led to this platform designed for tourist to be able to sit on the elephants with ease. What I loved most is that everything about this particular excursion was tailored towards the elephant's happiness and safety.
I am hesitant to do any sort of excursion involving animals because unfortunately in some countries the animals are not taken care of and are abused. They do this so that the elephants are compliant and all for what? Our amusement. That is the sad truth. My advice for anyone looking to do an excursion involving animals, make sure you do your research to ensure you are not supporting a company that is abusing their animals.
During my stay and time at the safari and a couple days before the elephant excursion, I was educated on the difference between the animals we saw roaming free on the safari and the animals on the reservations. The elephants that are at Camp Jabulani Reservation have interacted with humans leaving them vulnerable and dependent on their handlers. Therefore it would make it highly unlikely for the elephants on the reservations to survive on their own with the animals on the safari that have never interacted with humans. I was put at ease knowing that essentially the elephants run the reservation and the handlers are working for them.
My ride was a dream. It felt like I was floating on air. I had many questions during my ride and asked why the ride was in fact so smooth as if you're floating. I was told an elephant walks on its tippy toes, because the heel bones are raised right up inside the foot and rest on a thick pad of fatty cartilage. Because of this elastic spongy cushion the ride feels like your floating and it is why the ride is so quiet. Sebakwe walks behind all the other elephants because he is the dominant one. He had quite the personality if you ask me. He definitely knows he runs the show. He stopped at every tree and would pull off these huge branches. Some branches were the size of a small tree. I was astonished by how strong his trunk was. He broke the branches with little effort. The elephants love bark! They chew the branch until they reach the very part they enjoy, the bark. Sort of like a sunflower seed for humans. Huge differences in size, but you get the point.
Sebakwe had us laughing the entire time. He umm…well farted the entire ride. Rightfully so he was eating the entire time. He loves the camera. He knows he is famous. After our ride I was able to hug one of his legs, which was enormous. I kissed him touched his ear and as I caressed him I was focusing on his skin, which felt tough and rough. It actually felt a bit like tree bark. The inside of his trunk was wet and sweaty. Elephant's trunk is his most versatile tool, used for breathing, smelling, touching, grasping, and producing sound. While taking photos with Sebakwe he started to snort and grunt. He was obviously letting us know that he was finished for the day, lol. I started to cry with happy tears because the experience was so beautiful. Sebakwe hurried his way across the reservation to his family. He made a trumpet sound as he approached them. Seeing this majestic creature made me love them more. I never knew it was possible to actually fall in love with an elephant. I can say for a fact that yes it is absolutely possible to fall in love with an elephant. Sebakwe will forever have a place in my heart.
After watching Sebakwe greet his family and roam off into the horizon that was lined with trees I was greeted by a couple of warthogs. I snapped a cute picture with them and giggled. With love overwhelming my heart and my face in pain from smiling so much I looked at my husband and said, "Well I can say it was definitely a hakuna matata day."