Friday "Photoday"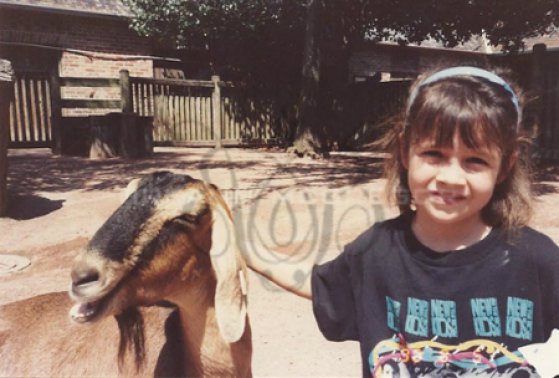 STAY INSPIRED READ ON:
I was so cute, right! I am rocking out in my "New Kids On The Block" t-shirt at Audobon Zoo, in New Orleans. This t-shirt brings me back. I remember going to their concert back in 1990, with my best friend at the time, Gretchen. Everytime they performed in concert, there was a part towards the end of their showcase where Donnie Wahlberg would bring a young girl on stage, sing to her, and then kiss her on the cheek. That was my favorite part, if I was the lucky one to be picked, of course. I remember riding in the car on my way to their concert praying I'd be that girl. Meanwhile my luck was one in a couple thousand. I was sitting all the way up off the floor in the arena. When they asked the crowd for that one special girl, I was screaming at the top of my lungs, jumping up and down, doing whatever I could to get them to notice me. LMAO! Memories like this just make me laugh and put the biggest smile on my face.
I cannot wait to go on tour and sing to crowds of thoudsands. Back then and now. When I go to a concert or show of some sort, I always want to be the one on stage performing. It is this fire inside me yearning for it. I want to entertain and I always have since I could remember. That day is coming very soon. But I have learned over my 27 years that nothing in life comes easy. I can tell you now that this journey has been one of the roughest roads I have ever been on. I swear before my dying day, I will make it! Because of my drive and determination, I've always said, "no matter how hard, stressful, tired, weak, told, "NO", rejected, laughed at, turned down, you name it." This is my dream and most importantly my life. I am the one in the DRIVER'S SEAT. We were all put here for a purpose and we all have to figure out in our on way what that is and do it. NEVER EVER let anyone tell you how to steer your life. Last time I was driving, I only notice one steering wheel, and the seats beside you are the ones who will support you all the way. Anyone else drop them off. They just use up all your gas.
Stay inspired, live your life, love yourself, find happiness within, and I am telling you doing all this you will live a happy life. Never give up. Yes, it is so easy to get discouraged. I can say since I have been up today, I have gotten depressed several times for no reason. When that feeling comes on I just say, "Go away, I have no reason to be depressed, and I am not going there." So, I sat down grabbed my guitar and just played for an hour, until my heart was happy and those stupid voices went away.
My single that I just released "Free My Soul" is about all these struggles in my life. All those stupid negative voices telling you things to doubt yourself. It is also about the envious people, who would rather watch you curl up and die, well guess what. Not me, I am Free of all this DAMN negativity around me and I will not allow anyone to come in my life and tell me otherwise. My grandma told me something that I will never forget, she said, "Breann, in this life if you only have 1 or 2 true friends, you are the luckiest person." She was so right. I can name maybe a handful of people that I call true friends. Everyone else are just acquaintances. It's not all about how many people like you and/or want to hang out with you. To be honest back in highschool and college, I was a hermit. I did not even go to senior prom or on my senior trip at the end of the year. Kids and teens can be so nasty. I was bullied in highschool. So I staid to myself and dove into my books. That was my way of coping with what was going on at school and at home. I just found positive things outside of school and home that made me keep moving forward.
I just hope that whoever reads this and/or listens to "Free My Soul," all my music for this matter, can take something positive from it. That to me is the greatest success! To be able to touch another individual in a positive way. Whether that is someone I never met, randomly crossed paths with, however it is, for them to be able to walk away from me and feel a sense of happiness. That to me, gives me the strength to go forward, and to be and continue to follow my heart on what I was sent here to be and do. To entertain and inspire other individuals like myself. Love life and most importantly take care of you…..
Sincerely,
Breann McGregor