Sunday "Funday"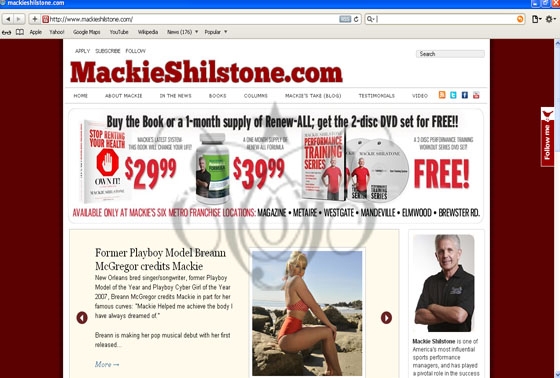 Are you ready to put on your swim suit? I know I am! I feel more confident than ever. Even more so then when I was Playboy's former, first ever in history double title holder, 2007 Playboy Model of the Year and Cyber Girl of the Year. With just a few adjustments to decisions I make in every day life, I have learned to make healthier choices, which benefit me now and for the rest of my life.  It's not just about feeling great or looking your best.  It's about making the healthy choices in life so you can enjoy ever facet of your life.
Mackie Shilstone a long time mentor, and with the privilege of meeting and working with him in 2006, became great friends over the years. Mackie is one of America's most influential sports performance managers. His expertise has played a pivotal role in the success and longevity of thousands of world-class athletes, including tennis champ Serena Williams, Baseball Hall of Fame Ozzie Smith, NFL scoring leader Morten Andersen, and boxing titleholders Roy Jones Jr. and Bernard Hopkins. He has appeared on ESPN, The Today Show, and Goodmorning America just to name a few, and has been featured in more than 2,000 magazine and newspaper articles from The New York Times and USA Today to People magazine.
I was honored when Mackie came and asked me to be apart of a new book he was working on.  I could not wait to help and be apart of a project by someone I so highly admire.  I believe in and trust Mackie with my eye's closed.  He has helped me over come many challenges in my life.  Also, with winning my two titles for Playboy.  His newly released book, which that I was so bestowed helping with, "Stop Renting Your Health Own It!", is a life altering book.  It is not your typical diet book or do this and in 30 days you will have the body you have always dreamed of.  No!  It does not even come close to those cynical books that are out there.  His book is within its own category.  I like to say its my daily little bible that I carry in my back pocket when I need a few words of inspiration and wisdom.  Many remarkable and unusually great individuals worked alongside Mackie Shilstone with this book, talents such as, Bob Costas, Serena Williams, Champion Tennis Player, John Goodman, Award-winning Actor, Mark A. Letendre ATC, Director of Umpire Medical Services Major League Baseball, Margaret Goodman, MD, Former Nevada State Athletic Commission Chief Ringside Physician, and many more extraordinary talents.
This is a must have.  I am not reaping anything for saying this.  I am saying this because I want to share the knowledge and tools that Mackie has giving me over the years, and it is all here in this book.  If I can help an individual out in a positive way then that for me is worth more than anything.  I have had my battles.  Sometimes we need that voice in our head whisper words of advice.  That my friend is all within this book "Stop Renting Your Health Own It!"  Do this for you, I promise you will not regret it.
To get your very own "Stop Renting Your Health Own It!"  go to www.stoprentingyourhealth.com or any major book store near you.
To learn more on Mackie Shilstone check out www.mackieshilstone.com